Auckland Pride
Auckland Pride
Auckland Pride
Auckland Pride
Max Tweedie to Step Down as Executive Director Following the 2023 Auckland Pride Festival
After four transformational years leading Auckland Pride, their Executive Director has announced he will be stepping away from the role, after delivering his final month-long celebration this February.
Max Tweedie, Executive Director of Auckland Pride — now in its 11th year — leaves the role having successfully led the organisation, with a strengthened team and rejuvenated festival.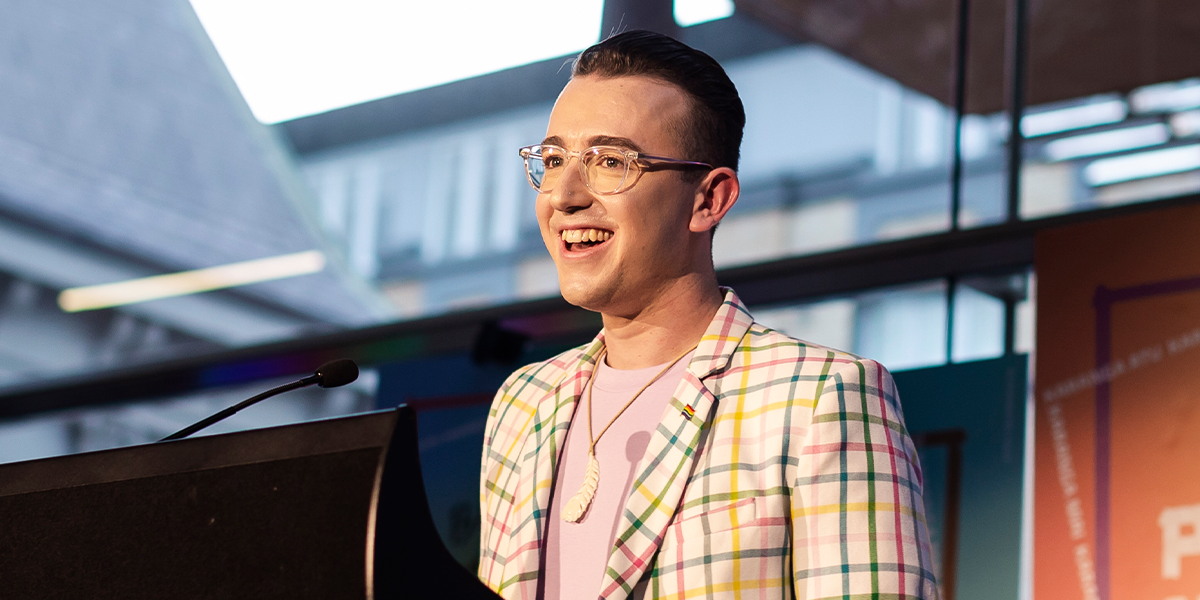 "Max joined Auckland Pride in 2019 at a challenging moment and wasted no time bringing his energy and stabilising the organisation. He has helped Auckland Pride revitalise our vision as we shifted our focus to acknowledge the diverse needs of takatāpui and rainbow communities in Tāmaki Makaurau. Key to this has been growing and developing pathways into Pride for communities historically not served or seen" says board co-Chair Kaan Hiini.
"Under Max's direction, the 2020 Auckland Pride Festival enjoyed a record attendance of over 60,000 participants across a record 154 events and made a statement that we were back."
"In 2021 Max led the significant shift to expand the Auckland Pride Festival to Auckland Pride Month responding to the dramatic growth of the Festival in 2020."
Hiini says "COVID-19 was an especially challenging time for organisations whose primary work and funding rely on delivering events.
"Max rose to the challenge, leading the planning and implementation of an industry-leading COVID-19 response, responding to not one but two lockdowns across the Festival dates."
"He demonstrated effective, fast, and values-based decision making and communications with event organisers, media, and established relationships of credibility with senior Government and Health officials to deliver this leading and celebrated response."
Despite Covid-related setbacks, the 2021 Auckland Pride Festival broke all of the records set in 2020 with a record attendance of over 75,000 people, a record 203 events programmed, and 9,000 attendees at the Pride March.
The festival's post event survey showed 72% of attendees felt more connected to their communities, a key driver in better social and mental health outcomes. Additionally, the survey demonstrated the Auckland Pride Festival audience was more diverse than ever, with Māori, Pacific, and Asian communities overrepresented in audience statistics relative to their population percentage.
Auckland Pride's revenue has grown significantly over the course of Tweedie's tenure, and he leaves behind an organisation well placed to continue to grow sustainably into the future.
In addition, his advocacy for rainbow communities and media nous has significantly grown the reach and reputation of Auckland Pride.
"From the ban on conversion therapy, equity in the COVID-19 response and vaccine rollout, the proposed hate-speech laws, the rise in hate crimes and more brazen attacks, the rise in anti-trans rhetoric from the political right, and against homophobia and transphobia broadly - Max has ensured that Auckland Pride remains a relevant and important voice advocating for rainbow communities on important issues," adds board co-chair Christian Rika.
"We cannot thank Max enough for his outstanding commitment and contribution to Auckland Pride".
Max took up the role then-named Director of Pride in June 2019. He had previously worked in community engagement and event management for the NZ AIDS Foundation (now Burnett Foundation Aotearoa), campaigning for the Green Party of Aotearoa NZ, and engagement and partnership management for World Vision NZ. He was a key leader in the movement to ban conversion therapy and was also the Co-Leader of the Young Greens.
Tweedie's resignation will take effect once a new Executive Director has assumed the role and a handover has officially taken place.
Applications for the role are open now until 6 February. More information on the recruitment process can be found here.
The Auckland Pride Festival 2023 runs from
Wednesday 1 – Sunday 26 February, 2023
The 2023 Auckland Pride Festival is delivered thanks to the generous support of Principal Partner OREO, Core Funder Foundation North, Major Partners Spark and Rocketwerkz, and Strategic Partner Auckland Council.
Auckland Pride Festival 2023 Key Dates:
1-26 Feb: Te Tīmatanga
18 Feb: Pride March
24 & 25 Feb: Pride in the Square